"I've seen the future of rock 'n roll, and its name is Bruce Springsteen." – Jon Landau
Cleveland Rocks! It sure lived up to this billing on Tuesday night when Springsteen was in town! My friends and I (Kevin, Mike and Damian) headed downtown to The Q to catch the show. This would be my fifth time seeing him, however, Damian would be taking in his 28th concert (not too bad for a priest)! Beforehand, Lindsey joined us for some dinner and drinks at Market Garden Brewery. The last time I saw Springsteen perform was with Lindsey in 2003. She was hoping I would've been able to see him with her in 2009, but unfortunately I was still laying in a hospital bed fighting for my life. So in a way, I expected Tuesday night to be somewhat bittersweet – finally able to see Bruce again, but this time in a wheelchair and on a different journey I never would have imagined all those years ago.
Anybody who has known me throughout my life, has always known what a huge fan I am of The Boss. I have always found a tapestry of messages in Bruce's music and the characters through which he tells that story. But since my accident, I have listened to him more than ever to motivate myself to keep working hard. He's helped me appreciate how music can reach our soul and move us to do things we didn't think possible. I often speak and write about how this injury is teaching me how to live a different way. However, I refuse to let it strip away my belief that I will one day move my body again.  We all have the chance in life to do something great. I plan to walk again. And I am sure when that day comes, I'll be listening to one of Bruce's songs!
Monday evening, less than 24 hours before the show, I sent an e-mail to the PR firm that handles Bruce Springsteen's publicity. I tried to convey what Springsteen's music has meant to me throughout my life, especially these past few years. I even referred to a line from his song, "Trapped" which goes, "I know some day I'll walk out of here again." In my message, with all the innocence of a child, I asked if Bruce could dedicate a song to me. I even made sure to include the section where I would be sitting.
We arrived early to the arena and immediately could feel the electricity in the air. Damian I both said to each other that we were in for an incredible evening of music. Springsteen is known for how passionate and how long his concerts are, which usually eclipse the 3 hour mark, unheard of for most performers today. In fact, Springsteen's longest concert ever was in Cleveland on New Year's Eve when he and the E. Street Band rocked out for 5 hours and 15 min. Bruce and the city have always had a special bond and Tuesday night was no exception. The band treated the sold out venue to another awe-inspiring 3 hour performance!
Early into the evening show I already knew I was witnessing the best Springsteen performance I had ever seen. But it was something he said into the microphone before starting one of his final songs that will forever make the night the most memorable show for me. After performing "The Rising" (which is itself a prophetic song for me) the band started into the opening chords of their new song "We Are Alive". Bruce leaned into the microphone and uttered four words I won't soon forget – "for my friend, Scott." For a second I thought I just might jump out of my chair! Mike and Damian immediately turned to me, with huge smiles, and screamed "dude, that was you!" As excited as I was, it was a surreal moment I was somewhat reluctant to accept. I kept thinking to myself if that was really for me. But then again, how many Scotts were in the audience The Boss felt the need to dedicate a song to? After all, this isn't something he typically does. I would get my answer soon enough.
A few moments after the show ended and the house lights came on, a member of the Event Staff arrived at our seats and asked if I was Scott Fedor. Once he was convinced, he had us follow him out of the arena and into the hallway where he led us into a large service elevator. I looked at Damian and whispered, "Could this really be happening?" to which he softly replied, "I just keep praying to the Holy Spirit." Seconds later the large metal doors clanged open and the back side of the stage was a few yards in front of us. We were then led over to an area and asked to wait.
As we watched roadies and crew members scrambling around and tearing down the massive stage, a woman introduced herself to me as Bruce Springsteen's manager. She informed me that my e-mail had been forwarded to her and in a few minutes Bruce would be heading over to meet me! [This is the part of the journal where an expletive would normally be inserted].
Shortly thereafter, Max Weinberg (the drummer) was standing in front of me talking to us about the show, Cleveland and what it's like to play with Bruce. It was another surreal moment, as we all nonchalantly conversed with each other. He spent about 15 min. talking with us, snapped a few pictures, and then casually left on his way. And then a minute later, Bruce Springsteen came walking over, looking every bit the legendary rock star he is, while at the same time munching on a jumbo soft pretzel.
This was a moment that was 28 years in the making, ever since I heard my first Springsteen song! There would be no handshakes, though. Instead, he walked right up to me and placed his hand around my neck and kissed the side of my head. "God bless," were the first words one of the greatest rockers of all time said to me. And at that very moment there was not a doubt in my mind of how blessed by God I really was. I was alive, having survived an injury the doctors told my family I most likely would not. And not only was I alive, I was at a Bruce Springsteen concert, which once seemed impossible several months earlier. And not only was I at a Bruce Springsteen concert, I was now talking to the man himself!
Springsteen had an incredible presence about him – one of the greatest and loudest rock icons in the world, and at the same time an extremely gentle and caring man who was genuinely interested in what I had to say. We talked about how great the show was, even Springsteen himself commenting on what a powerful performance it was. That evening he played "Racing in the Street" a song that has a very emotional and spiritual meaning for me. I was thrilled to have been able to hear it live an hour earlier and was now beyond words to be able to talk about it with Springsteen. "That was it tonight," he said with a proud and glowing look. It was easy to see how pumped he was about the show, and how emotional the song was for him as well.
He posed with us for a few pictures, commenting on the medallion of Mary I was wearing around my neck (the same one he often sports as well). "Ah, a Catholic boy," he smiled. "We gotta stick together," I said. I handed him one of my awareness bracelets which he quickly put on his wrist before I could finish explaining what they were for (you can see him wearing it in the photo below). After another picture, it was time for him to board their plane back to New Jersey. He leaned in and gave me another kiss. "God bless you," he said one more time before leaving. Two kisses, a song dedication and an unbelievable performance… Not a bad evening! I am forever grateful to all the people that helped make Tuesday evening possible!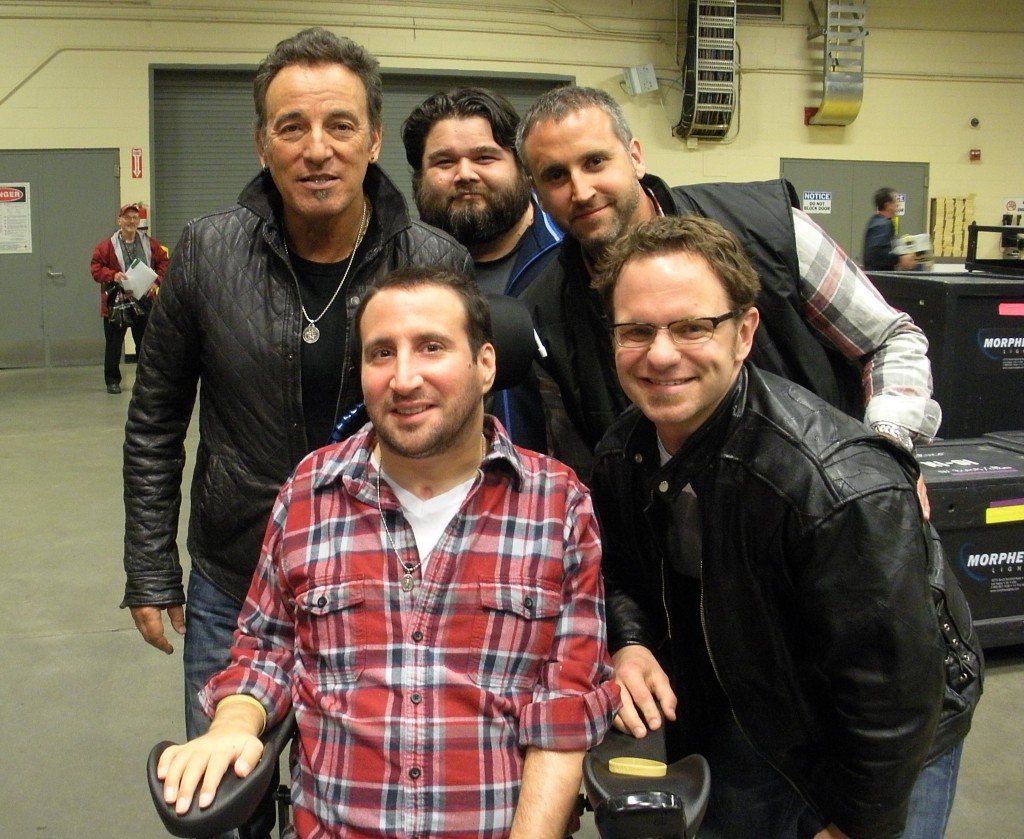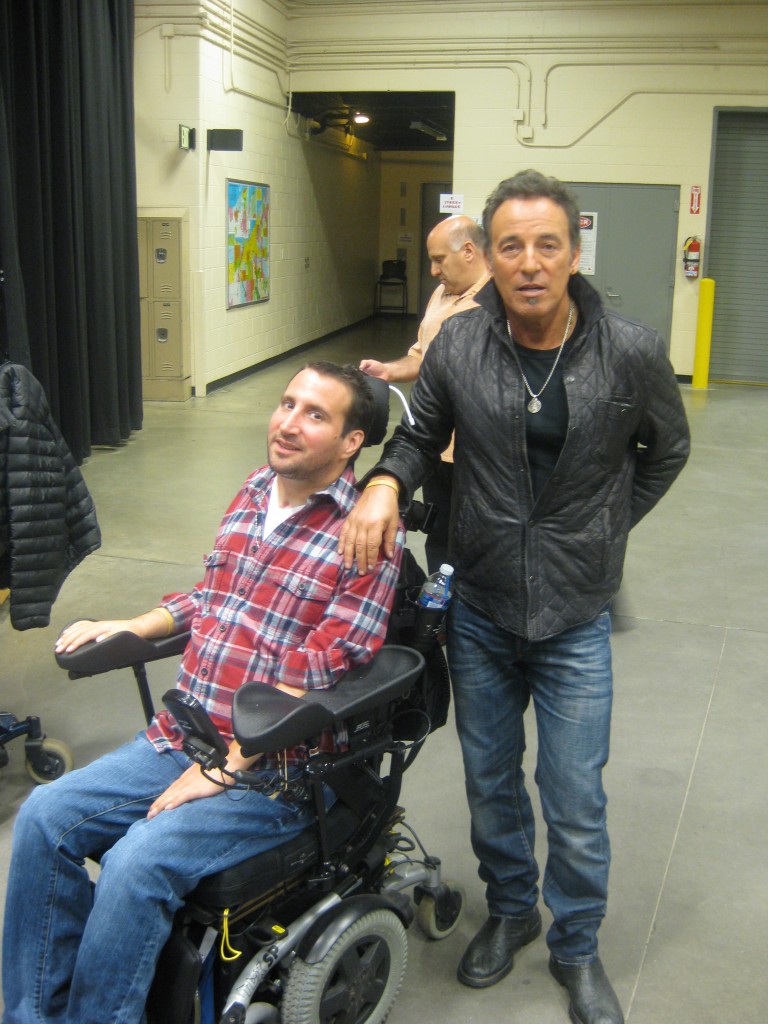 On a less eventful note, I was able to get back to the gym on Monday as well as today and resume my workouts. As much as my neck has still been giving me problems, I am managing, and plan to work out tomorrow as well. After all, "I plan to one day walk out of here."
Thank you to all for your continued prayers and support, especially those who were praying I would get the chance to meet Bruce. God certainly answered my prayers, as he always does, even if we may not realize it.
Stand Strong!
Scott