"Enjoy the little things, one day you may look back and realize they were the big things."
I'm pretty tired today. This past week was very fun and fulfilling for me. Eric, a very good friend of mine, just moved back to the States after living in Paris for the past three years. He arrived in town Tuesday evening and eventually made it over to my place on Wednesday afternoon (there were some funny events surrounding his arrival, but will keep them to myself for his sake). He stayed with me until Sunday afternoon, leaving behind some hilarious moments and his left tennis shoe.
There wasn't much time to spend with Eric when he arrived on Wednesday as I was on my way to Metro to participate in a videotaped interview that will be included as part of a larger presentation this fall. Metro Hospital is celebrating its 175th anniversary this October and hosting the "Champions Ball" to mark the event. The $700/plate dinner ticket includes the induction of individuals into the Medical Hall of Honors, and will also showcase interviews with selected individuals who have benefited from the services MetroHealth offers. I was very honored to be asked to participate in this collaboration. Obviously, a great deal of the health I experience these days is due to the team of doctors and researchers at Metro. It was very easy for me to speak about my experience and something I am always happy to do. Below is a snapshot of me getting ready for the interview.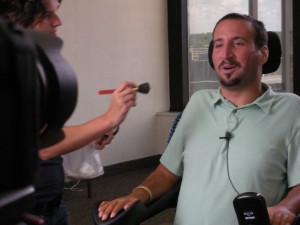 Once I arrived back at my place, it was time to catch up with Eric. He was in the process of making his world famous tacos and guacamole. Another friend of mine who had stopped by was also in the kitchen making salsa. We all enjoyed several beers and good food before Dave showed up to work on me. Thursday afternoon was spent watching the PGA Championship and eating leftover tacos and chips. Holly came over Thursday night for some more standing therapy. I was glad Eric was there to see me stand and use my standing frame, which he and the Darch family purchased for me. Thursday evening turned into Thursday night and eventually turned into Friday morning. Once I finally got up on Friday, Eric and I watched more golf while we waited for my Best Man, Bryan, to arrive. Bryan was flying in from Boston to also spend the weekend with me. Once he finally arrived, we all had a chance to catch up and enjoy some adult beverages together.
Saturday evening was the main event for the week. A family friend donated his luxury box at Progressive Field to me. I was able to arrange for myself and 12 of my friends to head downtown to watch the Indians take on the Minnesota Twins. Also, a few weeks earlier I had decided that I wanted all the guys going to the game to grow a mustache. Why? Just because. The ballgame served as the perfect venue for a mustachioed event. Just about everyone who was able to grow facial hair participated. In fact, Lindsey even showed up donning some upper lip follicle hair, courtesy of Old Navy. The game was a great time and we all had a lot of fun! Everyone left with a smile on their faces and a Mike Hargrove bobble head doll under their arm. Most of the group hung around at my place until early morning when the beer ran out.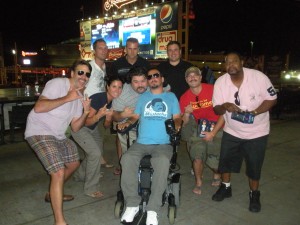 After Eric flew out Sunday afternoon, Bryan and I headed over to Crocker Park to check out a movie, The Changeup. Once the movie ended it was nearly time for Bryan to get to the airport. I ended up turning in fairly early Sunday night and watched a movie in bed before falling asleep.
Monday came very early and I was up and headed to Metro to participate in more screening studies for the arm/hand implant I am being evaluated for. This round of testing involved inserting three-inch needles into the shoulder and upper arm muscles that had sensation. The test was very similar to an EMG nerve test to measure how much nerve function was intact. The bad news is that there was not a tremendous amount of activity recorded. Because these nerves are very close to the injury site, there was some concern that there may not be much function. Those concerns were realized. However, the good news is that there was very strong activation in my arm, wrist and hand muscles. As a result, I am still considered a viable candidate for the implant device. At this point, the research team is waiting on more funding before they are able to accept more candidates into the program. There is a grant review in October, so fingers crossed for favorable ruling.
Most of this week will be spent working on items for my foundation and future business venture. I have also been offered a consulting project which I plan to accept. Fortunately, the discomfort in my neck has become very manageable and much easier to deal with. I am able to sleep soundly at night. I wake up with some pain which I am able to alleviate via a muscle relaxant. I'm not a big fan of using the muscle relaxants, but have been on a steady diet of them since the rod in my neck snapped in half. I will be consulting with the neurosurgeon in a few weeks to determine next steps. Just in case you're curious, I attached an x-ray that shows the break.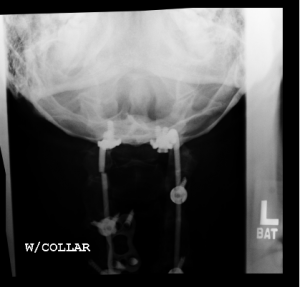 Finally, thank you for all the prayers for my buddy Alex. He is back at home and feeling much better! I continue to also pray for the Johnson family and am amazed by the strength they have shown. I know God is holding them up like He does for all of us, but I am constantly amazed by His healing power!
Of course I want to thank everyone who continues to pray and support me on this journey I find myself on. Stand strong!
Scott