"In the wreckage of heartache and hindsight a new beginning starts to unfold. If you let it, it just might save your life."
The aforementioned quote is a song lyric from "Gravity Happens" by Kate Voegele, but more about that in a minute. It seems like it's been a while since I last posted. I've managed to keep myself pretty busy these past several days which is always a good thing. I usually find that the busier I am the less time I have to dwell on things like not being able to move, etc. Don't get me wrong, though, I still appreciate the time I have to be still and meditate and reflect on all of the good in my life. I was reminded of this good over the past week.
Last Friday I had a very special visit from my friend, Alex. Although we Skype each other on a regular basis, this was the first time we met face-to-face. He and his mother were in town for an appointment and we were fortunate enough to be able to catch up. The poor guy was absolutely spent and exhausted Friday afternoon but was still adamant about stopping by to visit. When he showed up he could barely talk he was so tired, but that soon changed once he got into my apartment. Although he is a growing teenager, at first glance he appears small in his heavy duty wheelchair. Because he is on a ventilator there are several apparatuses attached to his power chair that are needed in order for him to breathe. However, once in his company, all the equipment disappears and is replaced by his magnanimous presence!  It isn't possible not to smile when around the guy. He is infectious and contagious in a good way!  Nevermind the fact that he was very tired, he rallied and made me feel guilty if I were to dare yawn.
The first order of business was to deliver on the promise I made him and go get some Five Guys burgers and fries! Let me just say, I thought that I could eat a lot, but watching this kid tackle a burger that was almost the size of his head was pretty impressive! I'm not sure if Alex or the seasoned, hunk of meat won, but my little friend's tank was running well past empty by the time he finished his meal. (Side note — Beth, Alex's mother, has my vote for Sainthood! What she goes through on a daily basis to keep her family of five functioning is nothing short of miraculous. The sacrifices she has made are truly amazing! However, she will be the first to tell you that what she does is not a sacrifice, but rather a gift from Christ.)
Before he left, Alex was able to find that great smile of his for a picture with me, although I think he smiled more for his picture with my caretaker, Helen!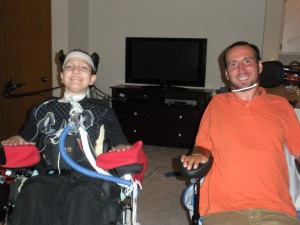 Saturday was here before I knew it, which also meant it was race day, and the final leg of the Triple Crown, The Belmont Stakes. Early in the afternoon Helen I headed over to Crocker Park to see, The Hangover 2. It was a funny movie very similar to the first one, but much more vulgar than I expected. Although, I probably missed several parts of the movie because my ears were still ringing from the deafening volume at which the previews were played. I think if a freight train would've ran across my toes it would have been quieter than the roar that filled the theater!  I almost felt compelled to tell the theater manager that I was paralyzed, not deaf.
Afterwards, we headed back to the apartment to watch the race. Of course, I had to have Helen make me a Belmont Jewel, the official drink of the Belmont stakes, comprised of Woodford Reserve bourbon, lemonade and pomegranate juice — very tasty. Unfortunately, the actual race did not treat me as nice. I had a plethora of exotic bets placed on the 12, 9 and 6 horses, which finished 5th, 6th and 4th, respectively. There was no $70,000 Superfecta in the cards this time.
Sunday turned out to be somewhat of a rest day, the highlight of course being game six of the NBA Finals. I try not to make a habit of rooting for people to fail, but as a Clevelander, it's practically impossible not to root against the Miami Heat, particularly, LeBron James. I was happy to see Dirk and the "Mavaliers" take care of business!
Monday brought the start of another exciting week. Pat stopped by to give me my usual neck, shoulder and arm massage. As usual, I felt pretty good after she left and was ready to head into downtown Cleveland to meet some friends at the W. 25th St. district near Ohio City. A high school friend of mine, Pat Foran had arranged for me to have a private sampling of some new beers at a new restaurant/brewery his brother, Mike, is getting ready to open soon. However, it's not your normal brewery, The Market Garden Brewery, as it will be called, will be a beer garden that will brew several different beers on its premises, and eventually distill spirits on site as well. Although a construction crew was busy putting the finishing touches on the place, Mike was still able to show Pat, Kristin, his wife, myself and Tanya (my aide) around. The place is huge — in addition to the enormous ground-floor, there'll be a basement, an outdoor patio and a rooftop deck. It will clearly be the largest place and crown jewel of the area. But the best part, obviously, is the beer! Mike took us back into the brew room, which was filled with large stainless steel vats and several bags of malts and hops stacked high along the walls. I was able to sample some of the delicious ales straight from the vat. The tasty beverage I enjoyed was dark and malty, dangerously smooth and extremely quaffable!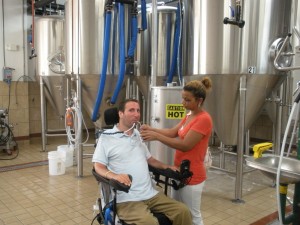 After the tasting, Mike took us across the street to another one of his restaurants, Bar Centro, where we enjoyed some more craft beers, wood-fired pizza and some of the best palm frites (french fries) you'll ever have! If you're in the area and looking for a great place with awesome atmosphere and great fare make sure you stop by and check it out — I promise to won't be disappointed!
The fun continued Tuesday evening with a Kate Voegele concert at the House of Blues! She is currently on tour with Natasha Bedingfield and was in town to headline her own show. Her parents, Will and Betsy, were kind enough to arrange for "rock star treatment" for myself, Lindsey and Holly. The sold-out show was a blast and Kate sounded fantastic as usual! There was a very touching dedication before the song, "Hallelujah," which she dedicated to me — thanks Kate!  After the show we were able to catch up with her backstage for a little bit. I am looking forward to hanging out with her later this summer once her tour is over. And if you still haven't checked out her music, what are you waiting for! Give her a listen and I'm pretty sure you'll add her to your favorites!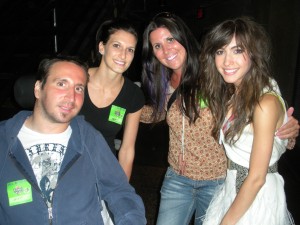 Wednesday is a busy "work" day. I have phone calls/meetings with Helping Hands regarding the monkey placement, Medicaid, LEAP, a follow-up interview from last week and physical therapy with Dave. Thursday will be just as busy, as I am back at Metro to meet with some patients, receive a Cough Assist check up and meet with the FES folks for an evaluation that could possibly lead to receiving a bicep/hand implant which would restore movement to my arms!  I'm sure that the weekend will be busy and fun, but I haven't had time to think that far ahead yet.
One thing is for sure, I have definitely been enjoying the warmer weather!  I spend 8-10 hours a day outside and still feel like it's not enough. Strangely, I have become very accustomed to the humidity and actually seem to enjoy it… very odd.
As always, I want to thank everyone for your continued prayers and support! Stand strong!
Scott