"Gravity Happens."
The above phrase is the name of the new Kate Voegele CD which hits stores on May 17th, and can currently be pre-ordered on iTunes. As most of you know, I have become good friends with the Voegeles. They have done so much for me in terms of support and generosity since the moment I first met them. Although I've only known them a short time, their family has welcomed my family into their lives as if we were related by blood. I am forever grateful for their friendship.
I was recently made aware that Kate mentioned our friendship and my story in her new CD credits. I was absolutely humbled by this gesture. I was even more floored when I came to find out that she mentions me on her new website and even provides a link to my website. The fact that she cared enough to highlight my story on her website gives you a glimpse into what kind of person she is. Not to mention how incredibly talented she is as a singer/songwriter and actress. I have heard the CD and assure you it is a wonderful compilation of music. It is definitely worth adding to your music library!
I want to return the favor to Kate by providing a link to her website:
It seems like my life has been blessed by the addition of several "Kates" since my accident. I would be remiss if I did not mention Katie Bradesca and her quest to run her first-ever half marathon to raise awareness and support for my therapy needs! She too has also become a great friend who brings me Communion every Sunday and also has a knack for putting me in touch with some special people from my past!
Katie's run for me will take place ONE WEEK from this Sunday!  If you have not already done so, please click on the link below to learn more about Katie and her quest to support me: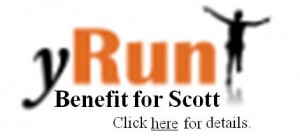 Finally, I want to thank Kathi who volunteers her time each week to visit me and cook up a gourmet meal that always tastes fantastic!  She stopped by this past Wednesday and prepared another delicious recipe that left me satisfied and stuffed! We are looking forward to this summer when we can start grilling out!
Thank you Kate, Katie and Kathi for the support and generosity you have shown me!
I had another great week in which I felt good and was able to accomplish a lot. I got back to standing again thanks to the help of, Holly, who continues to volunteer her time to provide me much needed therapy! I wasn't able to beat my record of 90 minutes this time, but I'm confident I'll get back to that duration soon!
I still have not heard any decision on my application for a helper monkey. Rest assured, as soon as I know I will post something. Rumor has it that it will be 75° next week… finally! Hopefully it won't be the day when I am at Metro for a follow-up study of my muscle control. I also plan to meet with another individual who is considering the cough assist system. I spoke with a gentleman today is also thinking about getting  this life-saving device. I am excited and eager to do anything I can do to help others realize the benefits it offers!
Tomorrow is the 137th running of the Kentucky Derby! Most of you know that I used to make the annual pilgrimage to Louisville to witness this great American sports spectacle.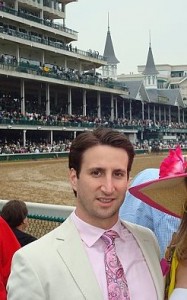 While I won't be in attendance this year, I plan to enjoy the "Run for the Roses" and a few Mint Juleps from the cozy confines of my apartment! For those keeping score, my picks are as follows:
My boxed superfecta is: Dialed In, Mucho Macho Man, Nehro, Archarcharch
My sleeper is: Twinspired
My longshot is: Stay Thirsty
Finally, happy Mother's Day to all the mothers out there! Sometimes we may take you for granted, but we are so appreciative and thankful for all you do!  You love us and stand by us and when you want to strangle us!
I love you, mom!
Thanks to everyone for your continued prayers and support!
Scott