The future lies before you, like paths of pure white snow. Be careful how you tried it, for every step will show."
It's been a week since I had my trache removed and everything seems to be healing nicely. I feel much better since getting it out, and I've been able to do some more stretching with my neck than before. However, I still have very limited mobility in my neck due to all the hardware in place. If you haven't checked out the photos yet of my neck, please do so in the gallery — My Injury. I think they are pretty impressive, if I do say so myself. They are also a little freaky when you see the degree at which my neck was bent backwards.
I continue to work with Dave, Pat and Mary to keep my muscles nice and stretched. Recently, Dave and I have started doing more yoga — type stretching on a regular basis.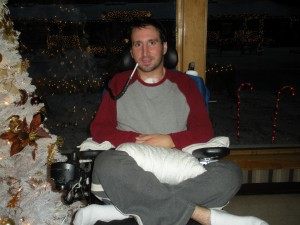 Below is a photo of Dave and I during one of our recent sessions. I also attached a photo of the dogs, Max and Ruby. I was only able to get Max to pose with me as Ruby was more interested in her nap.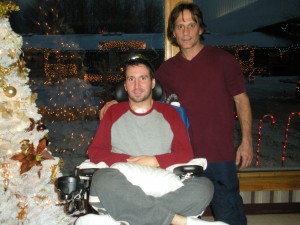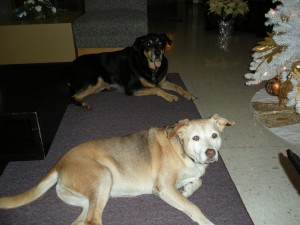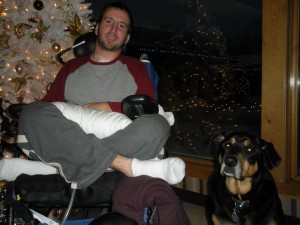 I have finally secured a spot for therapy at Kennedy Krieger Institute in Baltimore. However, it will not be until next April as they are very busy and in high demand. I am hoping to partake in some other therapy sessions prior to April. There is one in Mason, Ohio that someone was able to get information on, as well as Metro. Since I plan to be in an apartment soon, I will be eligible for Metro's outpatient therapy program. The only issue I need to work through is the insurance issue to determine how many sessions they will cover. In any event, I plan to find a way to make it happen.
The snow has finally arrived. Last night I laid in bed with the blinds open watching it all pile up. Fortunately for me, I did not travel in it or have to go anywhere, so I was able to enjoy it more so than in years past. It might be fun to try my wheels out in the snow, but it wouldn't be so fun if I got stuck, which I probably would, so I think I'll pass on that for now. Although this winter I have been invited to go skiing — yes, they offer skiing for quadriplegics. I am excited to try it out. At least I do not have to worry about breaking my neck as I have already taken care of that. Sorry, quad humor. But seriously, they do offer quad skiing which I plan to try out, even though I have never tried regular skiing. I need to find some way to enjoy the snow.
I continue to receive a tremendous outpouring of prayers and support from many of you. I don't really have the words to express my gratitude, other than Thank You. Until you find yourself in a situation like mine you fail to appreciate the level of support people are willing to offer. I am truly blessed.
Finally, I've had the good fortune of getting to know Alex Malarkey, the young boy from the book I read, "The Boy Who Came Back from Heaven." We have been Skyping each other on a regular basis, talking sports most of the time. He never fails to remind me how bad my Browns are and how good his Steelers are. Just wait until the last week of the season, Alex! I also want to thank his mother, Beth, for sending me a memory foam pad to lay on top of my mattress. This pad should go a long way in preventing pressure spots from surfacing.
I hope everyone can find a way to stay warm as the snow continues to pile up. As always, thank you so much for your prayers and support!
Scott