Hello! Sometimes time goes very fast. It seems like I just posted yesterday, and did not realize it's been a week. It's been another busy week for me. Spent some time at Metro meeting more SCI survivors and sharing tips as well as war stories. I also like to show off my coughing!  I think have been able to talk a few others into getting this system as well. Anything we can do to make our lives a bit more manageable I'm glad to pass on.
My aunt Marilou and uncle Peter were in from Philadelphia to visit the past two days. This is the first time I have gotten to see them since the accident. Unfortunately, I was having some neck and head pain all day yesterday, which made me a bit subdued. However, we still managed to make it over to Crocker Park where we had dinner at Blake's Seafood last night. I want to thank Maria for hooking us up! I had a great steak, which makes me so thankful to be a carnivore. Of course there was some wine involved as well!  I included a picture of us at the restaurant. My mother and I left earlier than the others so that I could get back to lay down and rest my head.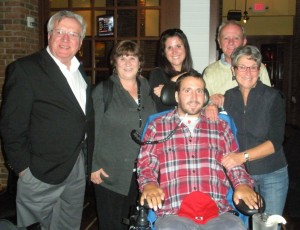 But what a difference a good night sleep makes. I felt great all day today. We spent part of the day watching the Phillies game together. My mother was able to make it out to dinner with her sister and brother-in-law tonight. I'm glad she was able to spend some time out with others and away from me. She seems to spend just as much time up here as I do. It's nice when she can relax and not worry, however, as she reminds me, she is a mother and thus will always worry. Tonight Kristy and I are going to enjoy some Chinese food and watch The Town on a bootleg DVD. Kingsley will be joining us as well.
I have been asked to donate my time every Friday to help teach some of the young adolescents that work at Rae Ann the importance of "soft skills" in the workplace. Some of these kids, while able-bodied, are developmentally disabled, and their instructor would like for me to work with them. She also thinks it would be good to have a male presence involved. I am definitely excited to be able to help out in whatever way I can.
I received a surprise visit from one of my friends in Toledo yesterday morning. He is a former veteran who was injured in the first Gulf War. He often finds himself in Cleveland at the VA hospital, and stops by to see me when he has an opportunity to. We had a chance to catch up on the Browns and Buckeyes and the woes that seem to have befallen both teams. It seems like an annual conversation that always happens around this time of year — discussing the downfall of Cleveland area sports teams. I still have hope for the Buckeyes, not so sure about the Browns. But… I am a believer, and still think they're the best 1–5 team in the NFL.
My family purchased a brand-new minivan this past weekend. Whoever thought I'd be so excited about a minivan!  We are working with the state to get the needed modifications installed so that I can start getting out more. I can't wait. Now if I can only get my real wheelchair sooner than later.
I'll have more updates to share later this week.
Thank you for all your prayers and support!
Scott