"No person was ever honored for what he received. Honor has been the reward for what he gave."
The above quote may be true, but I am certainly thankful for what I have received. And I honor those at Metro for what they gave me… a cough! The coughing continues to go well. Whoever thought that I would be so excited to write about my cough. I continue to be amazed by the technological advances that are being made every day. I really feel positive that some day we might have a cure for paralysis. There are thousands of people out there who would benefit greatly from such a cure. Not to mention all the health care costs that would be saved by no longer needing around-the-clock care.
I've attached a PDF file (Cough_System.pdf ) that gives a visual diagram of the Cough Assist System and how it is placed in the body. Some of you might find this interesting. Currently, I am on a regimen to build back up my abdominal muscles and acclimate my body to coughing again. This involves coughing once every minute for 10 minutes, three times a day. It may not seem like much, but considering the fact that my ab muscles have not contracted in over 15 months, it takes a little while to get the body used to coughing again. So far, I've had no issues with using the system. The most challenging part is trying to time up my cough with the stimulator's delivery of its electric pulse. The better I am able to time this up, the louder and more productive the cough is. Who knows, if I get good enough at this maybe I'll make a YouTube video of me coughing. I'm sure that would win the award for most interesting video of the year… hardly!
Yesterday I went to see Dr. Nemeh again. This was a more productive visit than my previous visit. He felt he was able to feel more of the nerves firing up. This is a good thing! I certainly had more of a reaction to some of the tests he did, I felt some muscles contracting that I haven't before. I plan to continue seeing him every four weeks. There really is nothing I won't try to get better. I am willing to consider all types of treatment and options in order to restore some function to my body. I can't wait for the day when I can scratch my own face, feed myself, and feel sensitivity with my hands. Visits like the one yesterday, I believe, will pay dividends down the road.
I also had the good fortune of meeting my nephew, Brady, for the first time yesterday! He and Angie stopped by to see me in the morning before I left. Brady is a big, little moose! He is awesome! He is growing so fast that he is almost the size of my niece, Anna. We had a great visit. It is always great to see Angie as well. She also brought me some goodies this time. Unfortunately, I hate to say it, but I have become such a big fan of Late-Night Cheeseburger Doritos. Angie knew this, and brought me another bag. In case anyone does come visit, please don't bring me any more, I have quite a stash!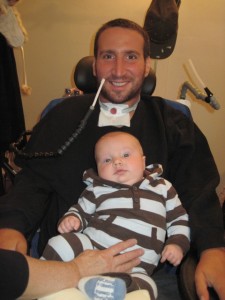 I've attached a few pictures from yesterday, as well as a picture of Anna and I from her visit on Sunday.  I attached a picture of me wearing Kristy's hat – the one that made me look like the Russian Bolshevik (that's for you, Jeff). I must say though, the hat did keep me dry during my journey back from the apartment.  I finally dried out from the rain, just in time to enjoy the 70° weather we are in for this weekend! It will probably be the last of the Indian Summer days for quite a while. I plan to take advantage of them.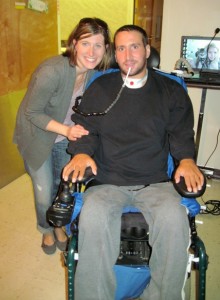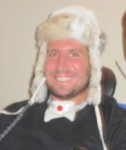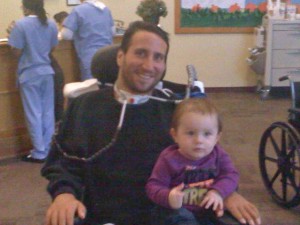 I should have the support bracelets ready within the next few weeks. I will post more details about them as well as a charity I plan to donate some of the proceeds to in the upcoming days.
As always, thank you for your prayers and support. It is so appreciated!
Scott